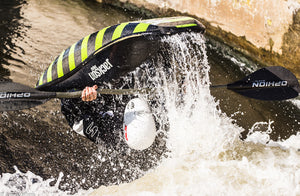 ALEX WALTERS – 2016 WRAP UP
It's been another one of those years, a slow start and ramping up all the way through the year. The cold winter months of 2016 little happened in the way of competitions, just a lot of cold sessions at Hurley and other Thames weirs (I'm not complaining!).  At around Easter time I went on a trip to Plattling, Germany with the  KJO Burners for a week. The trip started off with touch and go water levels – I remember starting most sessions wrapping my boat in duct tape and hoping not to finish the session with it in multiple pieces floating down the river.
My summer was also relatively quiet, I spent a fair few weeks in Nottingham training and progressing a lot with moves. A stand out session during this time was with my coach Jacko, in the space of about 2 hours I managed to crack both luna's and tricky's on both sides, as far as progression in one session it doesn't get much better than that!  Later in the summer, the Younguns tour final was held in Nottingham. As always a great event was put on with the usual crowd and a few new faces turning up.  I was fortunate enough to win the event in the under 16's category which resulted in an overall series win.
As the days got shorter the British Championships/ Club Championships were held (again) in Nottingham. After a fairly relaxed heat, the junior men's finals took place. To be perfectly honest I remember very little about how the individual runs went however, I just managed to win with 840 – just enough to claim the title. As always it was a very close competition and run excellently by the organizers.
Finally, the year concluded with what I personally see as one of the best weekends of paddle sport in the world, The  SAS Hurley Classic.  The energy at the event is something that is really difficult to describe and something that you really have to experience for yourself. More events were added this year to include the world rolling championships and, various SUP races. On Saturday evening, I had the privilege of being invited to paddle in the showcase floodlit final.  The wier was running on an unusual configuration of one and a half gates, something which I have never experienced before – inevitably I tried to paddle it how I would paddle Hurley on a standard configuration, so that didn't go quite as well as I had intended. On Saturday night I was awarded the  Thames Valley Freestylers Junior Male of the Year – it came as a bit of a shock and I'm very thankful for the recognition. The main event on Sunday was brilliant after a storm overnight we were able to get a perfect two gates. I was very pleased with my score in the end  – 660 was a big improvement on last year, especially considering the difficult of the feature.
---