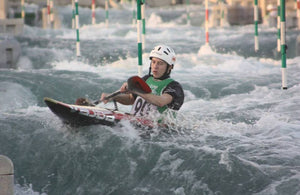 END OF SEASON SLALOM RACING
Over the weekend I competed in the last slalom race of the season in Lee Valley. The Saturday's race was the final prem race of the year and the last chance for me to move up the rankings for next year. The course set was fairly open in most places and only one or two tight bits. I put down a fairly solid first run with only one touch putting me 15th in prem. The second run I had the option to put down the quickest run I could taking the risks in places, again I put down a solid run pushing the speed between the gates. Unfortunately I got a bit court in one of the stoppers losing 2-3seconds but I still managed to go a second faster overall. I ended up finishing 20th in prem which helped to push me up the overall rankings finishing in 21st place in the UK moving up 15 places.
The Sunday was the British Open, with lots of big names on the start list including the 3 kayak men that medalled at the Olympics. The format was everyone gets a semi-final run then the top 10 from each class would go into final A and the rest would go in final B. Not expecting to make final A I went all out in the semi- final run cutting the lines and the gates tight, unfortunately a paddle back in the middle knocked me down the rankings a fair way meaning I would be going off fairly early in the finals. The second run I wanted to put down a good result, I put down a solid run but with a silly touch towards the end. I ended up finishing 20th in the B final which out of 83 was a great result. I also ended up finishing 3rd junior overall and 2nd British junior.
Now I have two weeks of training before I hit winter training hard in preparation of GB junior selection next year. I also look forward to doing my raft guide training in a few weeks at Cardiff and competing in the Cardiff Boater cross over the winter.
By James Cooper
---