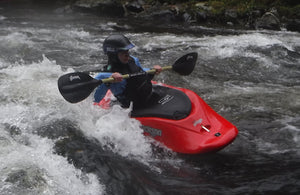 FIRST TRIP TO THE DART
When talking to fellow paddlers about British white water, the Dart is nearly always mentioned. It seems to be one of those rivers which everyone has paddled at some point in their lives, or is at least about to paddle in the near future. It was therefore great to hear that this would be the destination of the first Lee Valley Paddlesports Club trip, and even better to learn that it was on the weekend that my first term at university ended! Having lectures at weekends combined with a hefty workload had meant I'd already missed out on events such as the Club Championships and the Hurley Classic so I was extra excited for this trip!
We undertook the sizeable journey south on Friday, arriving with enough time to check out the river at the Dart Loop get-in before heading to the bunkhouse for the night. The warnings about storm Desmond were being broadcast all over the place but being so far south, the river levels in Dartmoor remained unchanged for our paddle on Saturday. We had a great day paddling the Loop, playing and surfing at every opportunity, including lots of flatwater freestyle in the sections between the white water! We were certainly the only paddlers on the river who were donning nose plugs for the flat sections and taking them off again for the drops!
t may have been the beginning of December, but the jump off Lover's Leap, in my dad's words, "just has to be done". We therefore dutifully exited our boats to give it a go…and then another go…and another! One leap off the cliff quickly turned into many once we realised that clearing the rock protruding half way down was easy and it wasn't THAT cold.
Sunday morning was considerably greyer and windier than the previous days, but the forecasted rain had indeed arrived overnight and the river levels were up! This made the Dart even more fun with bigger waves to surf and wave-wheel over and the get-out point seemed to appear all too soon.
Overall it was a great weekend of paddling, during which I constantly became more thrilled with my 2016 Rockstar. It feels amazing and performs brilliantly on waves of all sizes, but also gives amazing control and huge air when taken into a hole! It has also enabled me to throw flat water moves with far more ease than ever before and I can't wait to get it on the water as much as possible over the Christmas holidays!
Thanks to LVPC for a fantastic trip and great company on the water, Squarerock for all the support and Dad for picking me up from Cambridge on the way!
A short video of the trip by Dan McGaley:
By Jen McGaley
---