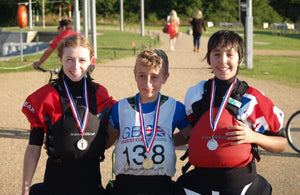 GB FREESTYLE LEE VALLEY EVENT
Last Saturday, GB Freestyle held a competition at Lee Valley White Water Centre for people of all abilities to come and paddle and have fun. Leaving with ample time to get there, we naturally encountered horrendous traffic jam, which we put on bread to eat during the wait!  Dreaming longingly of being on time, where we discovered that our haste was in vain, as the event hadn't yet started! After the briefing, we gathered round for the novice heat, which was held on the bottom wave of the Legacy Course. There were many tricks pulled, ranging from cartwheels to tailsquirts to rolls in the hole.
Then the focus moved to the top hole, well known for its beatings and general bounciness! The event was held as a 'Jam' style session, where within your heat you circulate around the eddy, chat and take turns to go into the feature and pull some crazy moves! This style of event is much more informal and relaxed, but still scored, compared 45 second runs. And, if you flush from the feature, you can just go in again and have another go in a minute or two!
Finally, when the competition was done, there was a record time down river race, where all 3 heats were done in under 15 minutes! The race involved starting on the lake and then racing to the escalator, and with no (very little) pulling an pushing, being pulled up and racing down the course!
At the prize giving there was success all round, and flapjacks and doughnuts were given to many people for each event and category. Over all a fantastic day with spectacular weather and great kayaking! My new Sandiline semi-dry cag deck performed excellently, competing with a fully dry cag deck, but without the hassle of taking it on and off! 
By Hugh Mandelstam
---