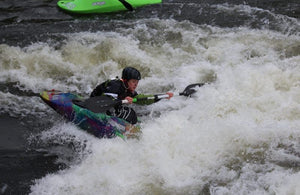 HAPPY HURLEY NEW YEAR
Having loved my first visit to Hurley for the Classic in November I couldn't wait to return, especially after the recent rain promised 3 or 4 gates of New Year fun and a chance to practise for selections in a few weeks time.
A 5.30 am Danny o'clock alarm call saw us arrive at Hurley almost on time to meet Danny, Jen, Ben, Simon and Ian from Lee Valley Paddlesports club already kitted up and raring to go.
A quick change into drysuits meant we were all soon on the water and heading for the weir which was already busy with a friendly Burners group, a few familiar faces training hard and Aaron with some rather cool new Union Jack Ophion paddles.
With four gates running the feature felt very different to the mellow hole and wave I remembered from the Classic but as selections are focussed on the hole gate rather than the wave I settled in to try and get used to the speed and flow of the first gate. However most of us couldn't resist blasting across all four gates just for the fun of surfing the wave.
With a little trial and error we soon found a sweet spot in the hole where we could land loops so after working on spins and Shovits I tried for McNasty's but lets just say they are a work in progress at Hurley and very different to the inlet gate.
As the morning flew by things became quieter with just the handful of Lee Valley paddlers plus Duncan making a spectacular entrance from surfers left. The short lines meant plenty of time in the feature and a chance to see the action which Danny has kindly captured on video.
Eventually everyone else disappeared in search of hot chocolate leaving dad and I to have Hurley to ourselves. I couldn't help thinking that if any none kayakers could see us in the cold dark water on a January afternoon they would assume we were crazy but I honestly couldn't think of many places I would rather start 2016 and hope to be back very soon.
I hope the new year brings health, happiness and some Hurley for everyone.
By Ottie Robinson-Shaw
---