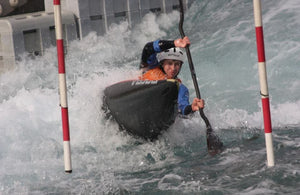 JUNIOR GB SLALOM SELECTION 2015
Last weekend I competed in the junior GB slalom selection race and first Prem race at Lee Valley. A long winters training had been put in for the chance to make the team and racing was going to be tight. The Saturday was normal race format, two runs and the fastest run counts. Having not trained all winter with my main competitors I was nervous thinking about how my time would compare with theirs. However after my first run I was happy to see that I was sitting 3rd in the junior class with a fairly solid run down with only one touch. With a solid run down it allowed me to go all out on my second run and as planned I did. I managed to go two seconds faster however two silly touches knocked me down the score board and I was pushed down to 4th junior. Overall I finished 18th in the Prem.
Day two was also a standard Prem race with two runs and the best one counts however for selection, both runs counted as selection points so I needed to be consistent on both runs! First run I went out to put down a solid run like the Saturday. Thankfully I managed to put down a solid run with no touches and I took 3rd place in the juniors. With two of the other juniors already taking the top two spots on the team it all came down to the last run of the weekend with me and Jono Atkinson both having a 3rd and 4th. I kept the same plan as my first run but going out a little faster in order to try and get a quicker run. A few small mistakes in my run but a few quick sections allowed me to go a little faster but a touch made my time a second slower than my first run. Then it was just the waiting game watching as the paddlers came down. But then the waiting was over and I'm happy to say that I managed to push ahead of my main competitor and take another 3rd which got me the 3rd boat onto the GB junior team!
This means that I will now be traveling to Foz Do Iguassu, Brazil in a few weeks for the junior World championships and Krakow, Poland in August for the junior Europeans.
By James Cooper
---