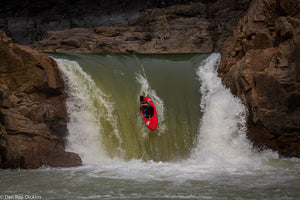 MEGHALAYA
o its was our second trip to Meghalaya. Getting on a plane completely relaxed to India was something that I thought would never happen to me, but knowing that once I arrived logistics were not going to be a problem meant that I flew out with nothing but enthusiasm.
Within 24 hours of arriving I was told that I was going on a multi day packrafting trip! My first experience of packrafting was on the first descent of the lower section of the Umngi. In true packrafting style there was lots of walking involved. We later ticked off a section on the upper Umngot river, a section we attempted to kayak the previous year, before we came across huge walled in horizon lines and had to walk out. With packrafts this was a fun and pleasant experience, with the right information we did what took us three days the year before one day.
This trip showed me how cool packrafts are. Think of all the remote class 4 rivers that you want to run, but can 92t be bothered to carry a kayak to. Packrafts make your life about 20 times easier. Also they make for the comfiest bed after a long day on the river.
Luc '92s video
Brad and Luc, the packrafters members of the American Packrafting Association, are true wilderness enthusiasts. Check out some of there amazing multi sport exploits in Alaska and elsewhere http://thingstolucat.com

Now, the kayaking.
This trip we set our eyes on the central region of Meghalaya, the Khasi hills where we paddled the Kynshi, Upper Khri, Umnsong and the lower Umngot
It was definitely an interesting trip, with much more portaging than we would like, but not a trip we regret doing. With five new sections of river run it was the end of our trip.
We would like to give a massive thanks to the Meghalaya tourism board, without their support the trip would have never of happened. Also to Zorba and the Laloo family for there infinite generosity and hospitality. Also thanks to Squarerock, the Jackson Kayak Karma is certainly my favourite boat to paddle.
Oh and were going back in a few months…
By Dan Rea-Dickins
---