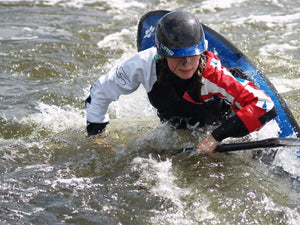 NOTTINGHAM PADDLE
As the Freestyle Kayaking World Championships draw closer and closer I have been training more and more, both in and out of my squirt boat. This has included frequent sessions on the flat water of the River Stour as well as play boating sessions at Lee Valley and constant laps of a local trim trail. This has not only meant that my flat water moves and routines have come together but has also proved to be fantastic in increasing my fitness, which is especially important considering that all of the squirt boat competitions will be held in one day.
One area that still needs some work however is mystery moves so on Sunday Hugh, my dad and I headed up to Nottingham white water course for some practice. This gave me the opportunity to try out my new Sandiline squirt boat cag deck and also to paddle the new course configuration which appears to have divided opinion from the posts that I have seen online.
After signing in and warming up, we slid into our squirt boats and slipped into the lake. It was great to find that the new cag  felt as awesome as it looked; it is close-fitting which is ideal for getting downtime and also kept me completely dry. The design also looks great with the union jack down one arm and printed on the deck. We spent a small amount of time going through our blocks of moves on the flat before we could resist the white water no longer….
The changing of inlet gate has produced quite a bit of debate, but while the absence of the familiar stopper did seem strange, the large number of waves all the way down the course were great fun for squirtboat-surfing! Lots of the eddy lines also allowed us to work at our mystery move technique which became ever more consistent throughout the morning. Eventually we were prised off the water for lunch and a break before jumping in our Jackson Kayak Rockstar's for the afternoon.
Living in Suffolk, we don't get the opportunity to paddle waves very often (with the exception of the odd Hurley trip) so it was exciting to get surfing again. Initially we played around with spins, roundhouses and how-many-boats-can-you-fit-on-a-wave-without-splatting-each-other and by the end we had all three sorted with a donkey flip by Hugh thrown in as well!!
By Jen McGaley
---