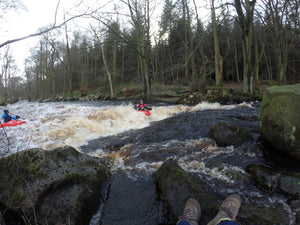 RETURNING TO THE WASHBURN
Upon hearing of a planned released a few months ago, we decided to head up to the Washburn, as the release coincided perfectly with Team paddler Jen McGaley's birthday: What could be a better way to spend it! None of us had visited the course since a competition in the Younguns Freestyle Series a few years ago, and we were amazed at how similar things were to when we had previously visited. After pottering around a little and admiring the scenery, it was time to get onto the water, as the river level started to increase. And unfortunately, despite the deceptive sun, the water was freezing (as with any dam release), burning your skin when you capsized. At first we tried to avoid capsizing, for fear of cracking our WRSI helmets or Ophion paddles on a hidden rock, and instead entertained ourselves squeezing into tiny eddies where the creek boaters couldn't chase us. Or so we thought.
However, as the day went on, we became more accustomed to the temperature, and more eager to fall in, and in the end we were trying to go for the vertical moves. Unfortunately, the rocky nature of the river kept trying to stop us, and in the end there were only a few places we could pull the moves.
In the usual freestyle stopper midway down the course, we had great difficulty actually performing moves, as on the seam were some very prominent rocks, preventing even shallow cartwheels. Eventually, though, we were doing all of the tricks behind the seam, on the boundary of flushing, being able to go fully vertical without hitting the bottom.
Further down still, we found a nice little wave to play on, and practice our carving as well as dodging paddlers from upstream as they paddled down.
Finally, at the bottom of the course, we found the 'broken weir', but looking a lot smaller than we remembered it!
In summary, it was a great trip, and shows freestyle can happen even in shallow features!
By Hugh Mandelstam
---