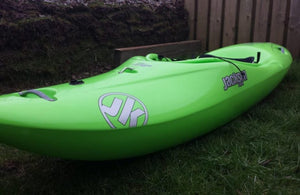 THE 2015 JACKSON KAYAK ZEN FIRST LOOK
So last week we had some exciting news, the 2015 Jackson Kayak Zen had finally arrived in the UK.  I was lucky enough to get my hands on one for the weekend. On first look the main things that I noticed was the flared sidewall and the ample bow rocker which is great for keeping the nose of the boat dry.
As there was not much water down here in Cornwall, we decided to head up to Cardiff White Water Centre. The first thing that I noticed was the speed of the boat, it only took a few paddle strokes and it was cruising along. This is due to the Zen having a super-fast hull. The second thing that I noticed was how easy the boat was to turn on moving water as it snapped into eddys all the way down the course.
All in all it was a great first outing for the Zen and I cannot wait to get the boat out on the water more over the next few weeks. It's differently worth a paddle.
Catch you on the water
Alex Read
---