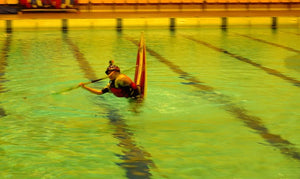 WINTER POOL TRAINING
Since the start of winter I have been using the local Kingfisher swimming pool to practice my squirt boating! The warmth makes a pleasant change, and the clear water is very helpful when trying to see what I'm doing upside down! The facility is great, especially with a café for after paddling, and a sloping pool bottom, making getting in and out very easy!
Thanks to the Kingfisher Leisure Centre and Squarerock!
By Hugh Mandelstam
---